Leading Districts Protect Their Schools with Proven
Safety Solutions
Staff Training and Anonymous Tip Reporting Help Prevent Incidents and Safeguard Schools
A Complex Problem Requires Comprehensive Solutions
Each year, managing school safety grows in complexity. How do administrators proactively address critical issues like active shooters and intruders, bullying and cyberbullying, drug and alcohol abuse, and student mental health and suicide prevention to best safeguard their schools and districts?
Keeping students and staff safe requires a comprehensive approach that addresses safe physical buildings and grounds, properly trained and prepared staff, and a school culture that supports positive relationships and student mental health.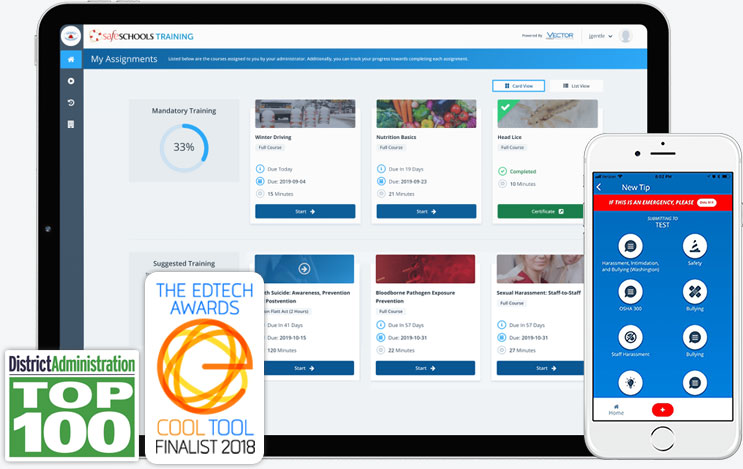 Vector Solutions, developers of the SafeSchools suite of award-winning K-12 safety and compliance solutions, has partnered with thousands of districts around the country for over 15 years to deliver affordable and effective programs for staff and student training, tip reporting, SDS and chemical management, and incident management, that help administrators better protect their schools.
Cherokee County School District
Cherokee County School District (CCSD) is a high performing school system in Metro Atlanta, with 42 schools, 4,800 employees, and 42,200+ students. The district's top safety priorities this year include a Social and Emotional Learning (SEL) initiative focused on student and staff mental health, staff training on key topics like workplace safety and identifying and reporting child abuse, and vaping.
Consistent Delivery of Safety and Compliance Training
Since 2016, CCSD has successfully used SafeSchools' safety and compliance training and tip reporting solutions. The district selected the SafeSchools Online Staff Training System to move from a paper-based system to an online system that provides expert-authored safety training and better compliance reporting. The district also uses SafeSchools Training's specialized courses from the School Bus Safety Company, that have helped CCSD address the growing challenge of recruiting and hiring qualified bus drivers.
---
"SafeSchools Training is critical to our efforts to inform employees of important safety issues, to ensure they understand and agree to follow our protocols and practices, and to ensure consistent content and delivery districtwide."
Julie Little, Executive Director of Human Resources, Risk Management & Benefits
---
Preventing Serious Incidents with Anonymous Tip Reporting
As texting has grown in popularity, CCSD saw tips to its safety phone line decline. The SafeSchools Alert Tip Reporting System expanded CCSD's reporting options to meet the needs of today's digital natives by offering reporting via text, email, phone, web, and a new mobile app. The district has seen the number of safety tips increase dramatically as a result of adopting SafeSchools Alert, and CCSD has been able to address serious incidents, including disciplinary issues, vaping, bullying, student emotional or mental health crises, and even students considering suicide.
According to Julie Little, Executive Director of Human Resources, Risk Management, and Benefits, "SafeSchools Alert has improved communications between students, parents, the community, and CCSD, and has empowered students to 'see something, say something' with greater ease and anonymity."
Lexington County School District One
Lexington County School District One is one of the fastest growing districts in South Carolina with 26,800+ students and 3,800 employees across 30 schools. The district's top safety priorities for this school year include improving front entrance security, improving communication during an emergency, increasing mental health counselors, and implementing threat assessment teams on each campus.
Preparing Staff for a Safety Incident with Effective Training and Tools
Lexington District One has used SafeSchools Training for over ten years to provide staff with greater access to safety and compliance training, anytime, anywhere. Today, the district also uses the program's customization tools to create, assign, and track district-specific training and policies in one centralized system.
The SafeSchools Alert Tip Reporting System has allowed the district to simplify how students, staff, and the public submit safety and security tips. The system allows district administrators to receive tips in real time, respond quickly, and keep a log of all information received.
In the first six months of implementing the system, 63% of the 155 tips submitted were submitted after normal school hours. In addition, 47% led to an active investigation and 43% required law enforcement action.
"We believe SafeSchools Alert's ability to support the needs of our students in partnership with law enforcement, especially as it relates to threats of suicide after hours, is invaluable."
Chris Ellisor
Safety and Emergency Services Director 
Lexington County School District One, SC